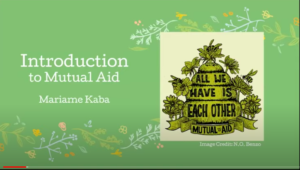 Introduction to Mutual Aid – Mariame Kaba –
Barnard Center for Research on Women
This session addresses the following:
What is 'mutual aid'; how is it different
from charity/philanthropy/state social services? How is mutual
aid part of current and historical freedom, liberation, and
self-determination struggles of different peoples? How are mutual aid
efforts responding to the COVID-19 pandemic? How can people
participate in mutual aid projects now?