1966 The Black Panther Party for Self-Defense (BPP) was founded in October 1966 in Oakland, California by Huey P. Newton and Bobby Seale, who met at Merritt College in Oakland, fed up with police brutality against the black community and established armed self-defense in response. Emerging from the Black Power movement, The BPP name was inspired by the use of its emblem as the black panther – an animal which only attacks when provoked.
1968 The Black Panther Party introduce The Free Breakfast for School Children, which within its first year was feeding 20,000 children in 19 cities across the country. Inspired by contemporary research about the essential role of breakfast for optimal schooling, the BPP also founded the Oakland Community School, which provided high-level education to 150 children from impoverished urban neighbourhoods.
The Free Breakfast for Children Program was one among more than 60 community social programmes created by the Black Panther Party. They were renamed 'Survival Programs' in 1971. These were operated by Party members under the slogan "survival pending revolution'. Another Survival Program started by the Black Panther Party was referred to as "medical self-defence" with the creation of healthcare clinics and their own ambulance services. In total, the Panthers had around 65 different survival programs, including children development centres, free food, free clothing, free busing to prisons, free housing cooperative, free ambulances, etc. – Read more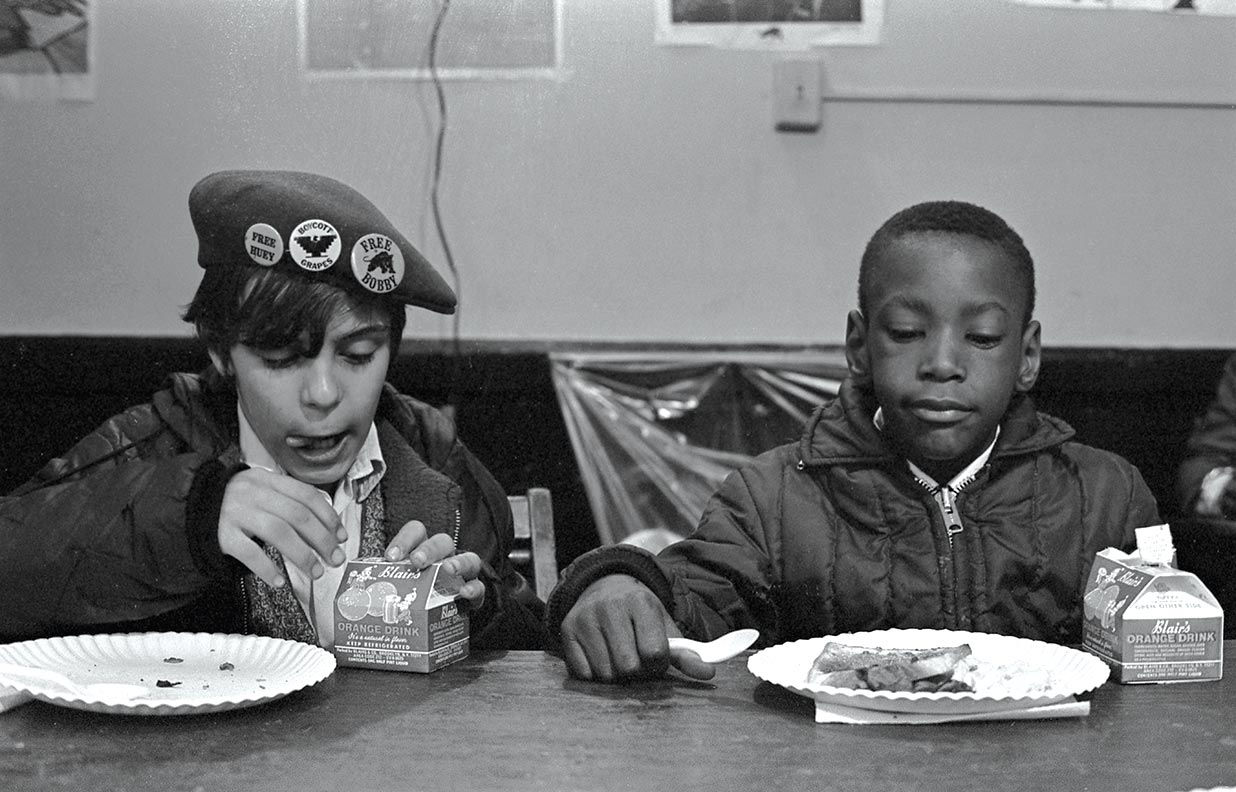 1968 The Black Panther Party introduce The Free Breakfast for School Children, its most popular of 60+ community social programmes. Within the first year, 20,000 children were being fed in 19 cities across the country. (Bev Grant / Getty Images)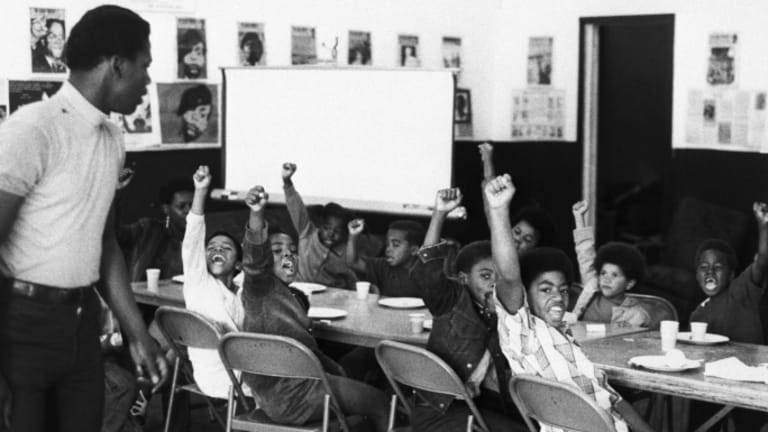 Eventually, their operations expanded to feeding 50, 000 children in 45 cities.
The Black Panther Party instituted or envisioned starting all of these programs as part of a process to help African Americans and other oppressed peoples meet their basic necessities, alongside political organisation to acquire the resources for self-determination and empowerment. Some of these programs still exist or were models for many of today's human and community service programs. Read more
Mutual aid projects expose the reality that people do not have what they need and propose that we can address this injustice together. The Black Panther programs welcomed people into the liberation struggle by creating spaces where they could meet basic needs and build a shared analysis about the conditions they were facing. Instead of feeling ashamed about not being able to feed their kids in a culture that blames poor people for their poverty, people attending the Panthers' free breakfast program got food and a chance to build shared analysis about Black poverty. It broke stigma and isolation, met material needs and got people fired up to work together for change.
Recognising the program's success, FBI Director J. Edgar Hoover famously wrote in a 1969 memo sent to all field offices that "the BCP [Breakfast for Children Program] represents the best and most influential activity going for the BPP [Black Panther Party] and, as such, is potentially the greatest threat to efforts by authorities to neutralise the BPP and destroy what it stands for." The night before the Chicago program was supposed to open, police broke into the church that was hosting it and urinated on all of the food. The government's attacks on the Black Panther Party by expanding the federal free breakfast program in the 1970s still feeds millions of children today. The Black Panthers provided a striking vision of liberation, asserting that Black people had to defend themselves against a violent and racist government, and that they could organise to give each other what a capitalist society withheld.
Other Prominent Programs
Seniors Against a Fearful Environment (SAFE)
"SAFE was a non-profit organisation organised by the Black Panthers. A group of senior residents asked the Black Panthers to launch the organisation to help seniors learn self-defense techniques to prevent robberies, muggings and other attacks on seniors. These seniors had originally approached the Oakland police department to provide additional patrols and protection. The SAFE program offered free transportation services which allowed seniors to conduct banking transactions more safely" – Community Services Programs Provided by The Black Panther Party
Free Food Program
"The intent of the Free Food Program was to supplement the groceries of Black and poor people until economic conditions allowed them to purchase good food at reasonable prices, according to Hilliard. The Free Food Program provided two basic services to the community: 1. An ongoing supply of food to meet their daily needs. 2. Periodic mass distributions of food to reach a larger segment of the community than could be serviced from the ongoing supply. The community was provided with bags of fresh food containing items such as eggs, canned fruits and vegetables, chickens, milk, potatoes, rice, bread, cereal, and so forth. A minimum of a week's supply of food was included in each bag" – 8 Black Panther Party Programs That Were More Empowering Than Federal Government Programs.
Free Healthcare
"One of the contributions of the Party less-talked about in popular discourse, is its organising and work around health care. The Panthers fought to protect blacks and other marginalised populations from dangerous medical research like UCLA's plan to establish the Center for the Study and Reduction of Violence that wanted to test inner-city children and other vulnerable groups for supposed genetic and biological predisposition to violence. The Party also established health care clinics for Black people in the community and worked to raise awareness about sickle cell anemia, a genetic disease that predominantly affects people of African descent." – A Conversation With Prof. Alondra Nelson on the Black Panther Party's Fight for Health Care
"In November of 1970, the Black Panther Party and the Young Lords seized a section of Lincoln Hospital, establishing the first drug detox program in the South Bronx, the center of the city's heroin epidemic. The "People's Detox" operated out of the old nurses' residence under a coalition of Black and Puerto Rican left nationalists, socialists, and radical medical workers. Influenced by the psychological work of Frantz Fanon, they saw revolutionary political education as essential for overcoming drug addiction" – Junkie Communism
Further Resources
Black Panthers in the 1960s: a rare intimate look – in pictures – An exhibition at the San Francisco Art Institute takes a new look at Pirkle Jones and Ruth-Marion Baruch's controversial 1968 photo essay, which sought to enhance public understanding of the Black Panthers.
"With contemporary audio interviews from leading African American artists, activists, musicians and scholars, The Black Power Mixtape 1967-1975 looks at the people, society, culture, and style that fuelled an era of convulsive change. Utilising an innovative format that riffs on the popular 1970s mixtape format, Mixtape is a cinematic and musical journey into the black communities of America."